IIT Madras and Nokia to boost broadband connectivity in rural India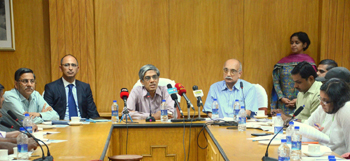 The Indian Institute of Technology-Madras (IITM) has partnered with Nokia to create technology solutions that will enhance broadband connectivity in rural India. Under the 3-year partnership, Nokia will fund and provide technological expertise for research at IIT-M's Center of Excellence for Wireless Technology (CEWiT). The project will evaluate the option of using unlicensed spectrum to deliver cost-efficient, last-mile broadband connectivity to remote rural communities in India, complementing the government's National Optical Fibre Network (NOFN) initiative.
The research project aims to bridge the connectivity divide in India by broadening the reach of broadband in rural areas. As part of this research, CEWiT at IIT-M will undertake the following measures:
Verify the feasibility of using unlicensed spectrum radio access technologiesfor cost-efficient, last-mile broadband connectivity




Complement the Indian government's ambitious plans of providing fiber optic connectivity to 230,000 gram panchayats* by providing last-mile connectivity from gram panchayats to their respective villages




Create effective low cost rural access solutions based on Wi-Fi technology




MoU between ICAR-CIBA and IIT Madras for joint research on Brackish water and Marine Biotechnology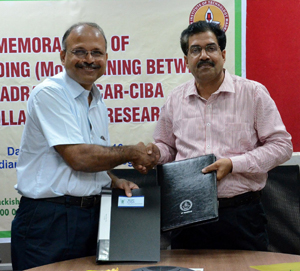 A memorandum of understanding (MoU) was signed between IIT Madras and ICAR-CIBA (Central Institute of Brackish water Aquaculture) Chennai for collaborative research, on 3 rd February 2016 at the Centre for Industrial Consultancy and Sponsored Research (IC&SR) IIT Madras. Both the organizations entered into the present agreement for the purpose of pursuing collaborative research on bio-prospecting of micro-organisms from brackish water and marine sources. Identification of active principles for treatment and management of cancer and cardiovascular diseases from these organisms would be the core thematic of the collaborative research. Bio-process optimization for commercial production of the active principles and the chemical modifications of identified drug leads would also be looked at, in this initiative.
The MoU was signed by Prof. Krishnan Balasubramanian, the Dean IC&SR of IIT Madras, and Dr. K.K.Vijayan, the Director of ICAR-CIBA.

Professor Sridhar Tayur of Carnegie Mellon University endows an "Institute Chair" at the DoMS IIT Madras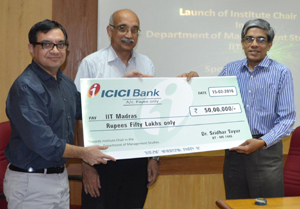 Prof. Sridhar Tayur, an IIT Madras alumnus, who was on campus on 15th February to deliver a "Leadership Lecture" launched an "Institute Chair" in the Department of Management Studies at IIT Madras. The Chair is endowed with an amount of Rs. 50 lakhs, and is established in the name of "RAGS Family Foundation," it has also made other philanthropic gifts in the areas of higher education, entrepreneurship, independent films, micro finance, children's health, development and safety.

Prof. Sridhar Tayur is the Ford Distinguished Research Chair and Professor of Operations Management at Carnegie Mellon University's Tepper School of Business. He received his Ph.D. in Operations Research and Industrial Engineering from Cornell University and his undergraduate degree in Mechanical Engineering from IIT Madras. In 2000, he founded the software company SmartOps Corporation [acquired by SAP AG in 2013] and served as its CEO for 12 years. He is also the founder of a hybrid social enterprise, OrganJet Corporation. Beyond his research and teaching, he is an angel investor and serves on advisory boards of startups as well as not-for-profit organizations.

World Conference on Multi Grade Multi Level Education at IIT Madras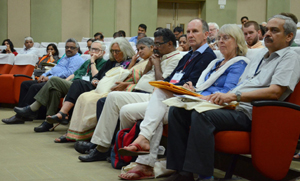 Rishi Valley Institute for Educational Resources (RIVER), Department of Humanities and Social Sciences, IIT Madras, and the Universities of Würzburg and Regensburg, Germany, supported by UNICEF, India organized an educational conference on Multi-grade Multi-level education (MGML). The event was hosted at Rishi Valley from 15 to 17 February 2016, and at the IIT Madras campus, Chennai from 17 to 19 February 2016.

Topics on the conference agenda included new techniques and improvements to current practices of scaling up the methodologies; the potential of these models to make them inclusive serving the varied needs of differently-abled and/or children from unstable backgrounds, migrants, refugees fleeing from natural disasters or state violence; the potential of technology as a tool to increase learning outcomes, teacher effectiveness, and sustainable scale up of the various models in multi-grade teaching and learning, and delineating the potential of the methodology in accommodating diverse cultures. Through moderated discussions and hands on workshops, the design of teacher education relating to MGML methodologies were discussed and outlined.

Neonatal Ambulances designed by IIT Madras deployed in the state
Health & Family Welfare Department (HFW), Government of Tamil Nadu has deployed 65 neonatal ambulances over the last 18 months based on design and technical recommendations from Healthcare Technology Innovation Centre (HTIC), IIT Madras.
According to the Dept. of Health & Family Welfare, Govt. of Tamil Nadu, design elements and recommendations from HTIC during the project covered crucial aspects for improved safety and functionality of the neonatal ambulances. With the addition of these 65 ambulances, the state will cover 32 districts and is expected to conduct over 28,000 neonatal transports annually.

Indo-German Conference on Sustainability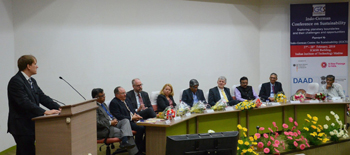 A two-day Indo-German Conference on Sustainability was inaugurated on 27 th Jan at IIT Madras. The inaugural session was presided jointly by Prof Bhaskar Ramamurthi, Director, IIT Madras and Prof Ernst Schmachtenberg Rector, RWTH Aachen University. The inaugural session was attended by Mr. Achim Fabig, Honourable Consul General of the Federal Republic of Germany in Chennai, Dr Akhilesh Gupta, Scientist G and Head SPLICE-Climate Change Programme, DST, New Delhi and Ms Heike Mock, Director, DAAD, Regional Office, New Delhi.

The main theme of the conference was "Exploring planetary boundaries and their challenges and opportunities". A total of 56 presentations were made, in three parallel sessions spread over two days, by researchers from Germany and India on various issues pertaining to sustainable development in the back drop of climate change. These presentations focused on latest developments in sustainable management of waste water and solid waste, land use management in the context of urbanization, and innovations in development of alternative energy sources, including bio-fuels and solar energy. Some of the presentations also discussed policy issues. 22 presentations were made by researchers from Germany while 34 presentations were made by researchers from India. Researchers were drawn from both academia and industry. Conference also included three key note lectures by Prof. P.P. Mujumdar, Chairman, Interdisciplinary Centre for Water Research, IISc, Bangalore.,Prof. Dr.-Ing. Peter Gotsch, Int. Cooperation and Urban Development, TU Darmstadt and Dr. Uwe Kaltenborn Head, Corporate Technology, MaschinenfabrikReinhausen GmbH, Germany. There was a special poster session highlighting the research being carried out under IGCS-DST program. Approximately 150 delegates, including research students from various universities in India and Germany participated in the discussions.
IPR Column
MICROWAVE HYPERTHERMIA DEVICE WITH COMPACT HEATING APPLICATOR AND LOW COST INLINE DEGASSING FOR BOLUS CIRCULATION
NOW TURN ON THE HEAT…SUB-SKIN-DEEP!
Researches at IIT Madras have developed a 'handy' therapeutic device that can aim and focus heat deep below the skin while causing minimal damage to adjacent tissues.
The Hyperthermia treatment device can address medical conditions both - superficial (Psoriasis, Melanomas, and other Inflammatory diseases), and deep-seated (tumors of the breast, abdomen, and head, neck and pelvic extremities)
The inventors are Dr.Kavitha Arunachalam (Engg.Design) and Dr.C.Geetha (Engg.Design).
Awards and Accolades
Fellow of the Indian Academy of Sciences
Prof. P. B. Sunil Kumar, Department of Physics, IIT Madras has been elected as a Fellow of the Indian Academy of Sciences.

Team IITM wins second place @ Enable Makeathon
IIT Madras team has won the second place at Enable Makeathon, with an add-on device to convert a manual wheelchair into an outdoor-mobility device!
Team Aseem from R2D2, Dept. of Mechanical Engineering, IIT Madras has won the second place at the Enable Makeathon - a sixty day global competition organized by the International Committee of the Red Cross (ICRC) to develop the next generation of affordable, assistive devices for people with physical disabilities. The Demo Day was held in Bengaluru in January 2016. The team comprising ME alumni Swostik Dash (DD 2013) and Vivek Sarda (DD 2014), both currently working as Project Officers in R2D2, and Ashish Sharma (ME11B148) developed a quick and easy add-on to convert any manual wheelchair into a manual or motorized outdoor mobility device.

Swostik, Vivek and Ashish are working on a startup, NeoMotion, for assistive devices and will be using the prize money of USD 15000 towards that. They competed with around 150 teams from all over the world!

Team IITM wins first prize in Inter IIT Techspark Competition
IIT Madras Team comprising of Praneeth Srivanth (CH14B049), B Shantini (CH14B064) and Sai Pavan Abhishek Vinakollu (CH14B058), B.Tech students from the Department of Chemical Engineering won the First Prize in the Inter IIT Techspark Competition conducted by Hindustan Unilever Limited on January 27th, 2016.

The prize was for their novel and sustainable solution for plastic packaging used in sachets. They also demonstrated the concept with a working example. They were guided by Prof. R. Dhamodharan, Department of Chemistry.
Best B-School Project Award
Balaji Venkatesh, MBA '16, won the first prize at the Business Standard Best B-School Project Award, 2015 for a project on discovery of artificial intelligence (AI) start-ups for automating business processes relevant to information technology services industry.
Best Paper Award
Kulkarni Atul Shankar, Research Scholar (ME13S009) and Dr. Manoj Pandey, Department of Mechanical Engineering won the Best Paper Award for their paper entitled 'Nonlinear Dynamics based study of Cracked Cantilever' at the 12th International Conference on Vibration Problems (ICOVP-2015) held at IIT Guwahati from December 14-18, 2015.
ICMR International Fellowship
Prof. Amal Kanti Bera, Department of Biotechnology has been chosen for the Indian Council of Medical Research (ICMR) International Fellowship for 2015-16.
In The News

Study to analyse airport flooding in the pipeline



Read More






Silver particles found in paddy varieties



Read More






'Intellimeter' to Replace Regular Auto Meter?



Read More





Arambam: IITM team bags first prize



Read More






Jet, Set, Go: Army Man 'Packs' a Punch to Tackle Disaster



Read More






IIT Madras to start research centre to tackle environment issues



Read More





IIT Madras partners with Nokia for enhanced broadband connectivity in rural areas



Read More






Institute Chair launched at IIT Madras Department of Management Studies



Read More






Data on pollution levels not accurate: TNPCB chairman



Read More





IITians offer biodegradable alternative to plastic sachets



Read More






Chennai scientists in core team to set up LIGO observatory in India



Read More